Gamers is powered by Vocal creators. You support
Michael Reynoso
by reading, sharing and tipping stories...
more
Gamers is powered by Vocal.
Vocal is a platform that provides storytelling tools and engaged communities for writers, musicians, filmmakers, podcasters, and other creators to get discovered and fund their creativity.
How does Vocal work?
Creators share their stories on Vocal's communities. In return, creators earn money when they are tipped and when their stories are read.
How do I join Vocal?
Vocal welcomes creators of all shapes and sizes. Join for free and start creating.
To learn more about Vocal, visit our resources.
Show less
'Jump Force' Official Gameplay & Trailer Review!
A Full Breakdown on 'Jump Force,' Gameplay, and Much More!!!
Enter.
Jump Force.
An epic game where all anime heroes and villains collide is finally here!!!
When E3 decides to announce Jump Force, they do it in such an epic way because we had no idea this was going to happen. 
Frieza's Ship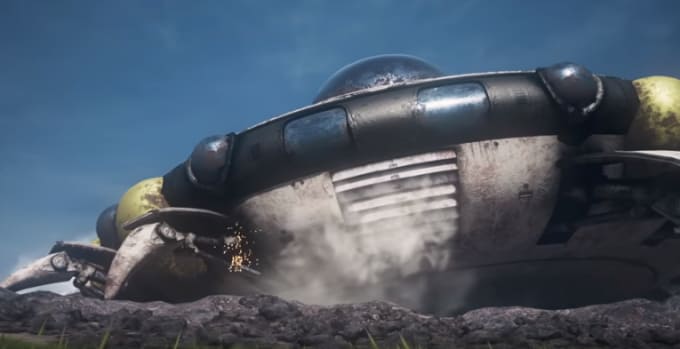 I thought we were going to get some sort of a One Piece game that had great textures until we saw Frieza's ship. Once we saw his ship, I knew this was going to be a Jump Starts type of game. It is Jump Force, but it is essentially the successor to Jump Starts. The trailer itself was hyped as hell. The only way it could have been more hyped is if instead of Super Saiyan Goku, we got Ultra Instinct Goku. 
Also, instead of Frieza, we would get Golden Frieza. Those were the only two changes I would have made, but that would put those characters at ridiculous levels. I mean, right now, they are in insane levels. 

'Jump Super Stars!'
Obviously, if you put these characters against each other in reality, they are not going to fight very well against the Dragon Ball characters. Especially how the trailer portrays Naruto fighting Frieza, which is not going to go very well for Naruto, even at his most powerful state. So, the game really did a fantastic job at balancing all the characters, just like Jump Stars did. The game brings them down to a level where each character can have a shot, along with their techniques and moves. 
Also, the gameplay is what really going to win it out in the end. Once the ending of the trailer came, and we saw Light with Ryuk, that was the definitive moment where this series is trying to portray itself as the Avengers and the "Marvel" of Japan. Because that was a definite ending cut-scene that you will get at the end of one of the Marvel movies.
3 vs. 3 Tag-Team Battle!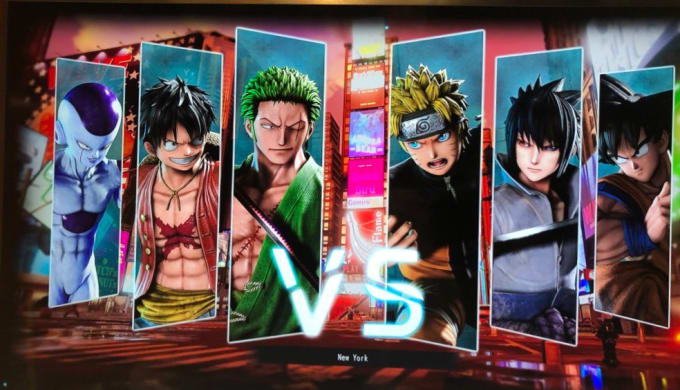 The game was done really well. In the game, you can choose 3 fighters for a 3 versus 3 tag-team battle, similar to Dragon Ball Fighter Z. You can mix and match any of your favorite anime characters and may the best team win. They could have had Saitama at the end and that could have made more sense because it is a fighting game. So for example, you can choose a team of Goku, Luffy, and Naruto or other anime heroes for battle. 
Just thinking about the team possibilities is endless.
Light & Ryuk Ending Scene!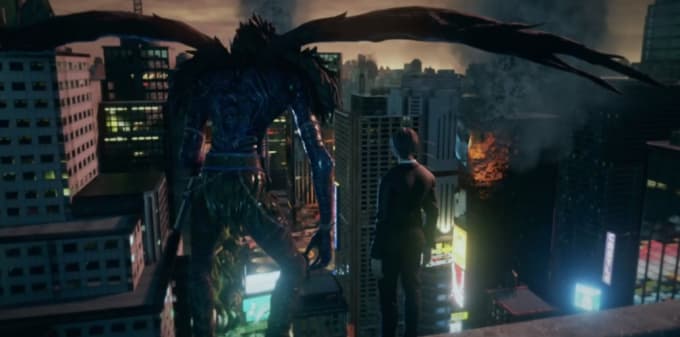 However, having Light at the end of the trailer, I am thinking that he is going to be a character that will be in a story element. These fighters will face each other in New York City and that will have its own story as well.
The narrator is portraying his own story throughout the trailer. So there is going to be some sort of plot and hopefully, it is a good one with this game. That is what I think Light is going to be like and what is propelling in this plot, which was why he was at the end. Because I do not see him as a fighter for the game, but you never know. So Jump Super Stars had characters who were kinda weak and they ended up being able to fight alongside Goku, Ichigo, and other characters.
'Jump Force' Gameplay Demo
So I definitely like the ending with Light. Now, as far as the gameplay goes, it does not look similar to Jump Stars. It looks more closely the Ninja Storm games if anything and I am okay with that, honestly, I really do. I like how the way it looks and I love the graphics in this game. The gameplay looks like an Assassin's Creed type of quality and with some high-end graphics to compliment each character and their overall moves. They went all out when it went to the graphics in this game and it really shows. 
We did not have a 3D rendered anime game at this type of quality since back in the mid-2000s when we were getting some Naruto games. They are trying to mimic the same style and held back by the technology at the time, but now this technology is bringing this game above and beyond. Now, the fact that this game is on Xbox, not Playstation, is ridiculous and I am an Xbox gamer. The only console I have consistently used for over 12 years is Xbox. 
So when it comes to Xbox and this game being portrayed as an Xbox game, I would likely get this game. I think that this game will be available soon for other consoles, like PS4 and PC, but for now, it is available for Xbox consoles, Xbox 360 and Xbox One. 

Goku, Luffy, & Naruto!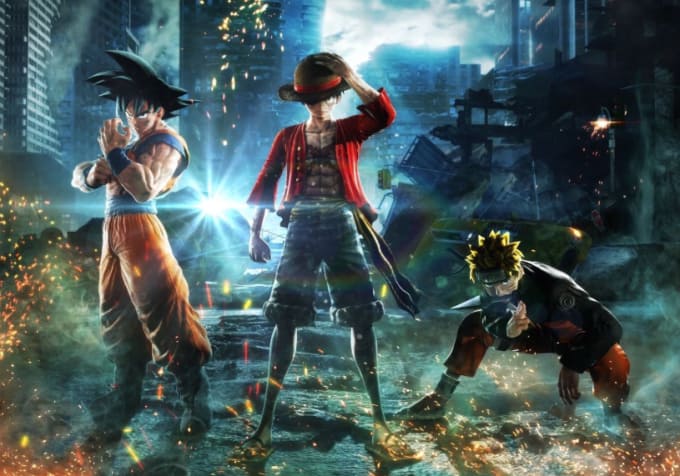 The characters I want to play in this game is Deku and some of the members of Class 1-A. My Hero Academia is one of the top anime shows right now. Whether you think so or not, that is the top anime that is out right now. So, now obviously, I want me some Saitama and Ichigo, but again Deku. I think he earns his spot and even All Might can be in this game.
The hype is so real and I cannot wait for the game to be released!
The game will be released on June 2019!!
So that is all the information about Jump Force!!
Thank you so much for reading!
Thank you for contributing to my post, and I really appreciate it!
Follow me on:
Twitter: @MikeAReynoso
Facebook: I Am Anime
Discord: GamerMike#7719
Please make sure to send a gift below for support if you enjoy reading my posts!
Until next time ^_^