Gamers is powered by Vocal creators. You support
Dustin Murphy
by reading, sharing and tipping stories...
more
Gamers is powered by Vocal.
Vocal is a platform that provides storytelling tools and engaged communities for writers, musicians, filmmakers, podcasters, and other creators to get discovered and fund their creativity.
How does Vocal work?
Creators share their stories on Vocal's communities. In return, creators earn money when they are tipped and when their stories are read.
How do I join Vocal?
Vocal welcomes creators of all shapes and sizes. Join for free and start creating.
To learn more about Vocal, visit our resources.
Show less
Preparing for the For Honor Beta? Here's What You Need to Know
Here's a few things we need to know before preparing for the beta running from January 26th to January 29th.
Samurai, Vikings, and Knights—oh my.
Ubisoft's upcoming beta for their highly-anticipated game For Honor is expected to hit consoles next month, and with high expectations from fans. This beta is set to hopefully fit the wants, the needs, and all the questions we have as far as the games performance goes.
So here's a few things we need to know before preparing for the beta running from January 26th to January 29th:
How Many Heroes are There?

In the beta, Ubisoft has announced that fans will get to play 9 out of the 12 total heroes across the three factions, giving us multiples for the Knights, Samurai, and Vikings. Hopefully this means we get to see multiple loadouts across each of the factions—maybe even with some level of customization. Who doesn't want to run around with a top knot screaming "bonzai!" if possible? I can at least run through the field with my beat-stick wielded while screaming "SHUGOKI!"
What Game Modes are There?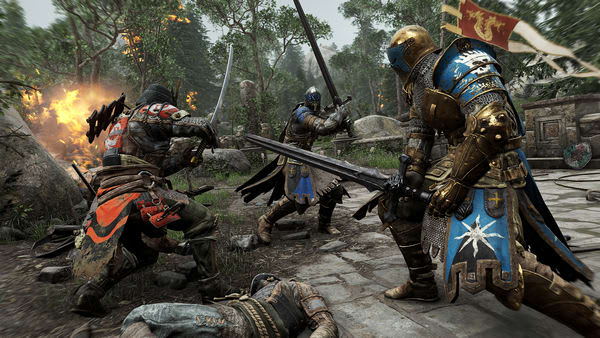 Luckily we'll get to play across three of the games five multiplayer modes. These modes will allow for teams of 4, 2, and 1 across the three modes. The modes you will see correspond with the amount of players. Dominion, Brawl, and Duel.
I Didn't Get a Code, When Can I Play?
If you're wanting to just wait out the extra two almost three weeks, you can snag the game up on February 14th ranging from $60 USD to $220 USD if you want the Collector's Edition and its 14-inch statue. Just remember, the game does require an internet connection, and will have single-player modes. Sadly, if you want split-screen, it's been completely cut from the game.
I do hope to see many of you running across the battlefield with me with swords, axes, and katanas raised.