Gamers is powered by Vocal.
Vocal is a platform that provides storytelling tools and engaged communities for writers, musicians, filmmakers, podcasters, and other creators to get discovered and fund their creativity.
How does Vocal work?
Creators share their stories on Vocal's communities. In return, creators earn money when they are tipped and when their stories are read.
How do I join Vocal?
Vocal welcomes creators of all shapes and sizes. Join for free and start creating.
To learn more about Vocal, visit our resources.
Show less
'Cube Escape: Paradox' - A Puzzling and Surreal Mobile Experience
Rusty Lake's newest point-and-click game digs deeper into the Rusty Lake world.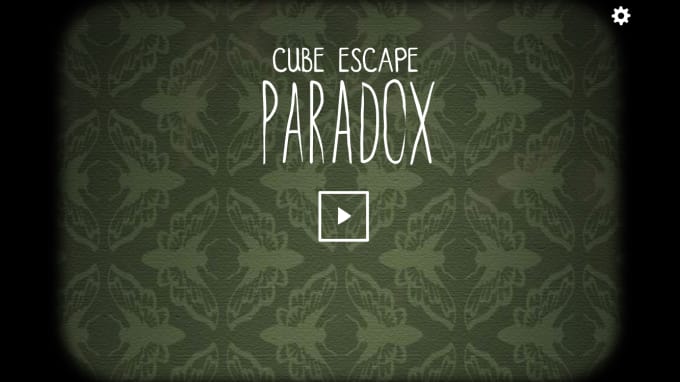 Cube Escape: Paradox is the 10th installment of the long-running series Cube Escape created by Dutch indie game company Rusty Lake, and the 13th game set in that universe. In it, Paradox digs ever deeper into the surrealist, horrific, Lynchian world of the other Rusty Lake games. You can download it as an iOS or Android app, or install it on Steam. It is also available in 14 different languages, which is impressively accessible for an indie game.
For the first time, Rusty Lake has also produced a short film starring David Bowles as a companion piece to the game, which is available to watch on YouTube.
Synopsis
In the game, you play as Detective Dale Vandermeer, who has just woken up in a strange, locked room. Guide Vandermeer to understanding the murder of the mysterious woman and his own past, present, and future as he comes face to face with his own corrupted soul.
Paradox has two chapters—in the first one, you are simply trying to find a way out of the room while examining evidence in the murder of Laura Vanderboom. The second chapter (which is premium at $1.99 in the Apple store or $2.99 on Steam) focuses heavily on Vandermeer himself, including some of his past in Cube Escape: Birthday.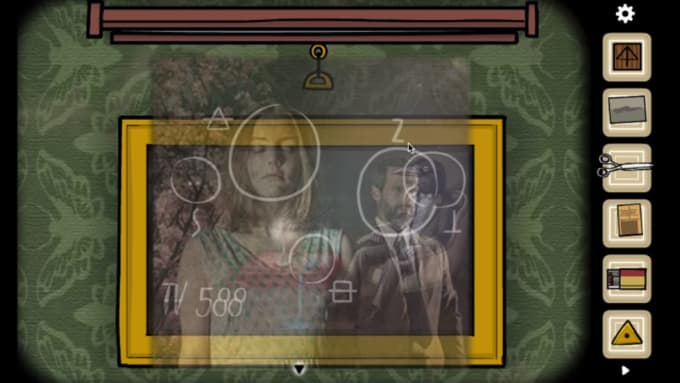 Gameplay
Just as with other Rusty Lake games, the puzzles and clues are brilliant, intricate, and compelling. Paradox manages to be challenging without being impossible, as long as you examine every object and pay attention to text in the books and files you come across. 
While Chapter 1 is fairly straightforward, Chapter 2 takes a lot of innovation in its design—you must explore and flip between the past, present, and future minds of Vandermeer, allowing the one four-sided room to seem a lot bigger and complex.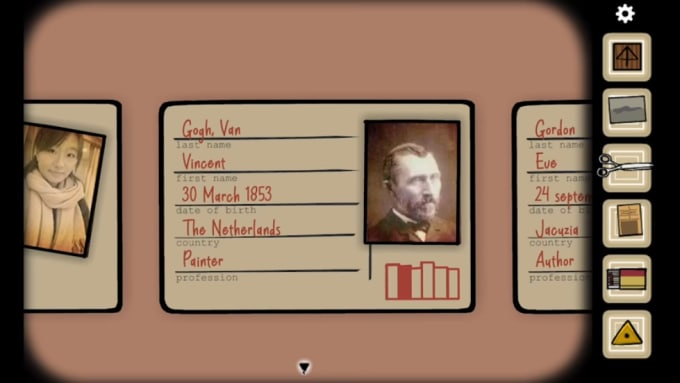 Of the puzzles, I found the ones in Chapter 2 involving the clock to be the most difficult—I ended up brute-forcing my way through, choosing every combination until one worked. Now that I understand the puzzle (Tip: the book in the cabinet tells you the orientation of the room), even that doesn't seem overly difficult.
The television is probably the most gimmicky part, using clips from the short film. Most of the TV sequences include you watching the television to get a clue to find another channel to find another channel. While these are fun, it can feel more like a scavenger hunt than an actual puzzle.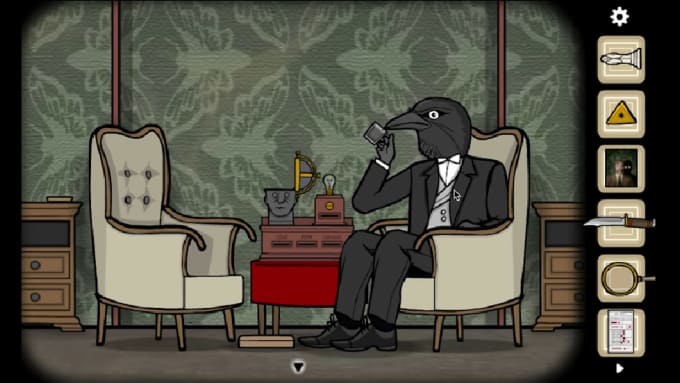 If you find yourself stuck, Rusty Lake also produces walkthroughs to their games that you can refer back to. However, it's much more fun to try playing without peeking.
While I haven't examined this aspect thoroughly, the game contains various endings to the story, depending on if you can find the various easter eggs. The Red Vial and Blue Vial endings are the standard endings to Chapter 1 and Chapter 2, respectively. However, there are also Green Vial and Golden Cube endings. See if you can open the alternate endings.
All-in-all, it makes for a great enclosed puzzle game. While you likely won't be stuck for too long on any one thing, there's enough there to keep you entertained for a good few hours straight.
Storyline
Like other Rusty Lake games, this has the same amount of confusing and unsettling imagery as the others, with key characters from the Vanderboom and Eilander families. That being said, you don't necessarily have to play all Rusty Lake or Cube Escape games in order to thoroughly enjoy and understand the singular story told here (I've only played Rusty Lake: Paradise), though the background knowledge does certainly help.
With a name like Paradox, you can expect a certain amount of time-wobbling confusion. It delivers on this with interest, especially with the Past, Present, and Future Minds conceit, in which Vandermeer must examine parts of his past and future. However, even with all the weird things within the game (a strange hand behind a curtain, the beheaded deer in the woods, the fish in the drawer, etc.) everything seems to make narrative sense and ties together nicely by the end of Chapter 2.
The short film accompaniment takes on the first chapter of Paradox, and is surprisingly well done. David Bowles performs quite well, and the cinematography and acting manage to keep the traditionally cartoonish world surreal and creepy without veering into unintentional comedy. For instance, Mr. Crow, the man with a crow's head, could easily be made to look silly. Instead, it manages to look even creepier. 
The little reactions Vandermeer gives to the strange occurrences in the room add a nice touch—since the Cube Escape and Rusty Lakes games are played from the perspective of the (often silent) protagonist, it's hard to gauge the in-universe reaction. With the film, it's somewhat gratifying to see the character as unnerved as the player.
Watch the Paradox Short Film Here
Conclusion
Overall, this game is a lot of fun. The music and visuals are great, the puzzles are challenging, and the story line is a cluster bomb of symbolism and surrealist imagery that would make David Lynch proud. You can download Cube Escape: Paradox or any other Rusty Lake game from the Apple store, Google Play store, or on Steam for a desktop experience.