Gamers is powered by Vocal creators. You support
Tom Chapman
by reading, sharing and tipping stories...
more
Gamers is powered by Vocal.
Vocal is a platform that provides storytelling tools and engaged communities for writers, musicians, filmmakers, podcasters, and other creators to get discovered and fund their creativity.
How does Vocal work?
Creators share their stories on Vocal's communities. In return, creators earn money when they are tipped and when their stories are read.
How do I join Vocal?
Vocal welcomes creators of all shapes and sizes. Join for free and start creating.
To learn more about Vocal, visit our resources.
Show less
Get Ready To Squanch With You Cash: Watch The Trailer And Demo For 'Rick And Morty' VR Game
There may only be 13 seconds to feast your Rick-hungry eyes on, but the VR game looks like it has retained all the charm of Rick And Morty.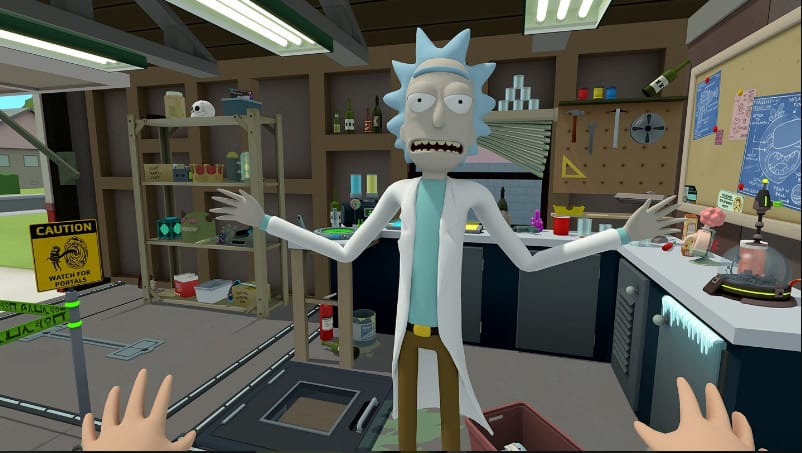 Fans of Dan Harmon and Justin Roiland's #RickandMorty may have had a surprise April Fool's Day treat with an early Season 3, but our joy was short-lived. Sadly, we now have to wait until summer for more far-off adventures, however, there is something to squanch you over until then.
We have a "schwift" look at Owlchemy Lab's Rick and Morty virtual reality game. There may only be 13 seconds to feast your Rick-hungry eyes on, but the VR game looks like it has retained all the charm of the #AdultSwim show.
We Seek Mr. Meeseeks
Titled Rick and Morty: Virtual Rick-ality, the brief teaser was released alongside a full trailer and hears Roliand return to voice both Rick and Morty. The demo mainly shows us getting hands-on with a fan-favorite Plumbus. Alas, there is no sign of any Szechuan sauce, but maybe they are saving it for the sequel!
Described as "a fast-paced, chaotic VR adventure complete with mechanics and mayhem only possible in VR," Virtual Rick-ality looks like it is as close as we can get to the madcap alternate realities and ludicrous adventures of the popular cartoon.
The creators added that this won't just be your usual VR game shoehorned onto the Oculus Rift and HTC Vive for the sake of selling units:
"Fans will experience the show in a totally new way – personally living life as a clone of Morty and all the trauma that comes with it. Navigate and rummage through Rick's garage and the Smith household, and step through portals to alternate worlds. Follow Rick's directions at your own risk to solve puzzles and complete missions in room-scale virtual reality."
Virtual Reality, Alternate Galaxy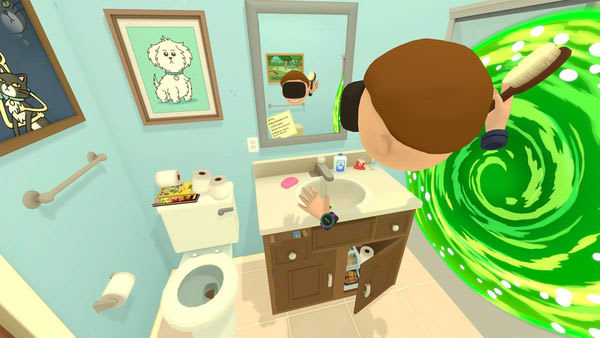 The premise will follow the formula of Owlchemy's popular Job Simulator game. Virtual Rick-ality puts you in the driver's seat as a clone of Morty, completing tasks and puzzles under the tutelage of a perpetually drunk Rick. As tasks progress, you glimpse references to the likes of Mr. Meeseeks, Blips and Chitz, and Snowball the dog. We also know that Morty's sister Summer features in the game, while it is expected that the likes of Mr. Poopybutthole and other colorful characters will get their time to shine.
Rumored to take between two to three hours to complete, the main draw of the game is its brand new audio recorded for especially for it. Given that the show is known for its off-the-cuff improvisation, Virtual Rick-ality looks like it will continue that trademark with hilarious results. For those wishing to part with their cash, the game is available now.
If you who want to have a bash for free, you will have to get yourselves down to San Diego Comic-Con, where you can play Virtual Rick-ality at Adult Swim on the Green, July 21-24 from 11am–6pm.