Gamers is powered by Vocal creators. You support
Dan Stourac
by reading, sharing and tipping stories...
more
Gamers is powered by Vocal.
Vocal is a platform that provides storytelling tools and engaged communities for writers, musicians, filmmakers, podcasters, and other creators to get discovered and fund their creativity.
How does Vocal work?
Creators share their stories on Vocal's communities. In return, creators earn money when they are tipped and when their stories are read.
How do I join Vocal?
Vocal welcomes creators of all shapes and sizes. Join for free and start creating.
To learn more about Vocal, visit our resources.
Show less
'Guild Wars 2:' Living World at Its Finest
The PC RPG That Does It All and More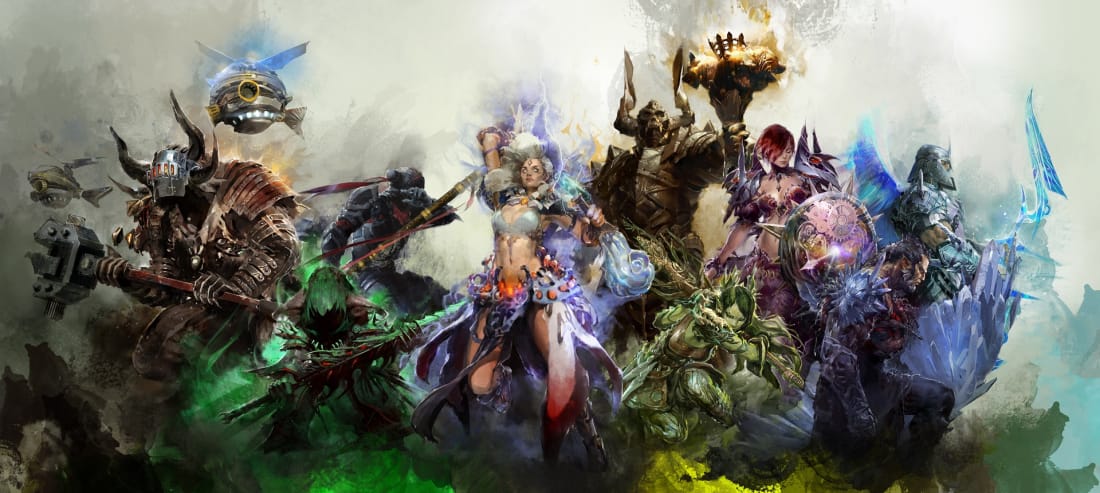 Guild Wars 2 is a fantasy MMORPG that has blown me away in every aspect that my critical mind could find. It truly has created the virtual living world! It expands on its 5 Race Cultures to endless extents. You constantly make story changing decisions that affect character growth and story long-term. Its unique watercolor art-style is always fearlessly detailed. The maps are far beyond epic proportions and smoothly expand across every imaginable fantasy terrain. The now 9 playable classes are leveled perfectly to turn any tank into a team support, and any support into the MVP on the front lines of the battlefield.
Cultures
When the world has a new villain, differences have to be set apart to ensure the safety of the world. 
The Charr. The original enemy to the original Guild Wars, now has an impressive industrialized world. They love war and physical prowess. 

The Humans. They and their many gods separate them from a unified belief. The typical well-rounded race, with a widely diversified people.

The Asura. A small being that values technology and mental ferocity. The former underground people that now built a city floating in the sky.

The Norn. The Human giants of the winter worlds. They attune to nature and their beasts, respecting and ever hunting greater beasts.

The Sylvari. Humanoids formed under the Pale Tree. All connected by the Dream, a nation as one whole, forever entwined. 

These people are truly established as racism is rampant throughout the world. Subtle jokes are made between NPCs and affect the way your unique story unravels with who you decide to befriend or make as an enemy. Clever and unique jokes are constantly made from map to map, always making for fresh content. Across meeting other nations and helping their struggles, you will be offered unique weapons, allies, and even shape-shift into animals and monsters with their own arsenal of attacks and magic to keep the excitement rolling.
Professions
Warrior, Engineer, Necromancer, Thief, Elementalist, Ranger, Mesmer, Guardian, and Revenant. Each profession dramatically changes your character style and personal story. At least 4 unique significations to your profession from the beginning. You choose whether they walk about the world valuing charm, ferocity, or diplomatic approaches to the worlds issues. Affecting your companions and the outcomes between some disputes than end peacefully, or spark an all-out war between nations.
Each Culture has their own master city, and unique maps to explore and conquer before crossing other nations.
Personal stories affect how the world views you and your achievements for the vast majority of the hundred+ hour story line. And that's rushing. Even after the 'Story' is completely, you've maybe unravelled 40% of the entire world, and a minuscule portion of the ever expanding content. 
Quality
Many games sport an open-world, but view games find a way to force the initiative to teamed playing until PvP or the open world gets to hard to solo. Guild Wars 2 has a method to level you to your play area, not sacrificing time and difficulty if you truly wish to capitalize on the simpler worlds, appreciate the scenery, and enjoy the depth of the constantly moving, interactive worlds.

There's no open world adrenaline like a towering monster rushing across an entire map, gathering all the players to the conflict as it rains hell in its path. Anybody up to level can join any event. You are rewarded well for any conjoined efforts. And I've never witnessed a gathering storm of 40+ players hunting down a single monster, lighting up your entire screen, and not sacrificing a single second of quality streamed content. At no moment across my hundreds of hours of love for this game, had I witnessed choppy screenplay when an all out 40-40-40 player warfare ensues before me. And I by no means have an impressive gaming computer.

Crafting and Gear
I have met no equal when it comes to in-depth crafting mastery's that make genuine sense. Armorsmith, Weaponsmith, Jeweling, Leatherworking, Cooking, and more. Every profession is beneficial to your character, and it takes countless hours to cross the worlds, farming the metals, wood, and food to craft what takes your character to the next level. There are countless ways to make your character the well-rounded savage on the battlefield you've always wished in a fantasy MMO. Between the cultures and their unique fashions, you will always stumble upon new gear worth saving for, or hunting rare materials to craft.

You are limited to your heavy, medium, and light gear, depending on your profession. But i promise you will invest more than a year into this to even attempt to experience everything it has to offer.
WvW and PvP
It's a struggle to even expand on the depth of these worlds.
WvW is an open concept that grabs structures a 40-40-40 castle siege and defense warfare. After level 20, you are free to join the anarchy and team building experience of rolling across maps and finding the best tactics to fuel defenses and build war-machines to take down your enemies fortresses. They are all heavily fortified by unique Champions that can easily wipe entire armies if unprepared. It takes real leaders to make the magic happen, and the rewards are oh, so glorious!
PvP sports the usual death match, domination, free-for-all, and more. It levels the play field to everybody capped at level 80, so players of all experience can challenge their tactics. Finishers, armor, and guild reputation fuel the intensity that make each battle unique battles. You will never quit expanding your arsenal to combat every unique strategy you will meet.
Holiday Specials
Not only do they cover cities in snow for Christmas, and spooky props on Halloween, the creators have created entire maps to explore new monsters, challenges, and specially designed gear for each major holiday. They hype up the labyrinths of content each year to follow over previous gear and crafts to level lose potential if you weren't able to commit enough time to capitalize all that the holidays have to offer in this epic world.
Conclusion
I've never been so impressed with an open world, across all gaming platforms, as I am with
Guild Wars 2
. The replay quality has never ceased to amaze me as every origin story is unique to each character profession. No play-through will ever be the same, and awards can be shared across characters! You can combine all your efforts to fuel each amazing, unique character you care to create. The community is so easy to interact with and conquer all forms of challenges to unravel. New and more impressive dangers constantly roam the land, just begging to bring everybody together.
To the only game I've ever considered a perfect 10/10 rating, I want to share the joys of this experience with all my fellow PC gamers. 
Amazing job, Guild Wars 2. Keep it up!