Gamers is powered by Vocal creators. You support
Michael Reynoso
by reading, sharing and tipping stories...
more
Gamers is powered by Vocal.
Vocal is a platform that provides storytelling tools and engaged communities for writers, musicians, filmmakers, podcasters, and other creators to get discovered and fund their creativity.
How does Vocal work?
Creators share their stories on Vocal's communities. In return, creators earn money when they are tipped and when their stories are read.
How do I join Vocal?
Vocal welcomes creators of all shapes and sizes. Join for free and start creating.
To learn more about Vocal, visit our resources.
Show less
'Kingdom Hearts 3' Final Battle Trailer Review
The final trailer of 'Kingdom Hearts 3' has been released with new information on Riku as a playable character in the game.
Welcome, Kingdom Hearts fans!!
I hope you all had a wonderful weekend!!
The final trailer of Kingdom Hearts 3 just dropped and it looks absolutely phenomenal. This trailer was suppose to be released on December 18, but Christmas came early. For those of you who do not know of what transpired recently, someone in America who works at Walmart stole 30 copies of Kingdom Hearts III for Xbox One.
This person tried to flog these items to other people by using the first hours of gameplay as proof that he/she has the game.
That is ridiculous!!
Who does that?!
This is a game everyone has been waiting for and you steal the game to flog it to other people.
Not cool!!
Anyway, we have this new trailer, which has come from Japan. Tetsuya Nomura pushed this up to being "just released." After watching this epic trailer, I was super excited for what's to come.
Replica Riku battles the real Riku.
So in this shot here we see (Replica) Riku return to battle the current Riku. This is a reminiscent of the first Kingdom Hearts game when both Rikus had their battle. We all know that the real Riku won the first matchup. In Kingdom Hearts 3, Replica Riku exacts his revenge to face Riku again.
It appears that Ansem is watching them battle it out, which looks awesome.

Riku is "confirmed" as the second playable character.
There has been a lot of speculations for years leading up to this final trailer. It is confirmed by Nomura that there will be multiple playable characters in the game. The main one that I see, which is the obvious one, are Rich and Mickey Mouse.
So far, it is confirmed by KH13com on Twitter that Rich will be the second playable character for Kingdom Hearts 3.
This is exciting news!!
If you are a die hard Riku fan, you will absolutely love this! I think that both Riku and Mickey will do their own adventure in the realm of darkness. There will be a playable section of them in the game. Obviously, Riku has been the second playable character ever since "Chain of Memories."
So it seems like this is a no brainer for Riku to be the second playable character again.

Will Master Xehanort be a playable character?!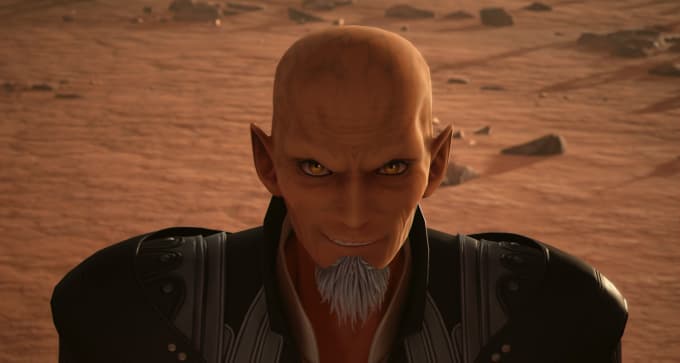 The third and fourth playable characters that I think will be added into the game are both the Young and Master Xehanort. From what I remember, Nomura said that each playable character will have their own section in Kingdom Hearts 3. This is to introduce their story and lead it into the game. I guess that means that they can be be playable characters.
We saw both Young and Master Xehanort in the opening trailer. They are going to be a big part in this game.
I may be right here.
That could be a possibility, too.

Is Kairi a possible playable character?!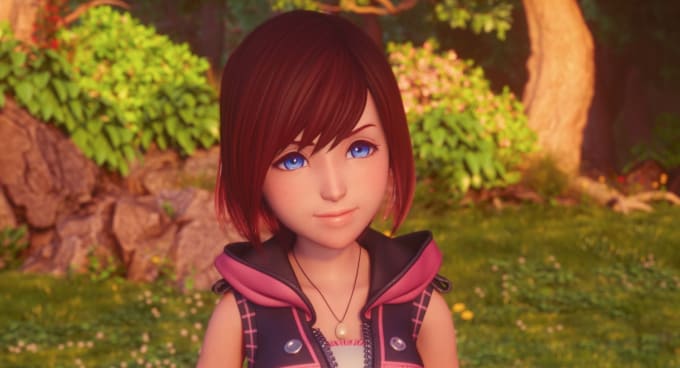 A lot of people have been asking for years about Kairi being a playable character. Well, I think she would be an awesome playable character in Kingdom Hearts 3.
Who doesn't want to play as Kairi?!
To play as Kairi would be awesome because she has to train to become a keyblade wielder.
Obviously, that opens up the possibility of her being playable in the game. She will be a big part of the final battle and that will be awesome. We just have to wait and see for Kairi to be confirmed as a playable character.

Aqua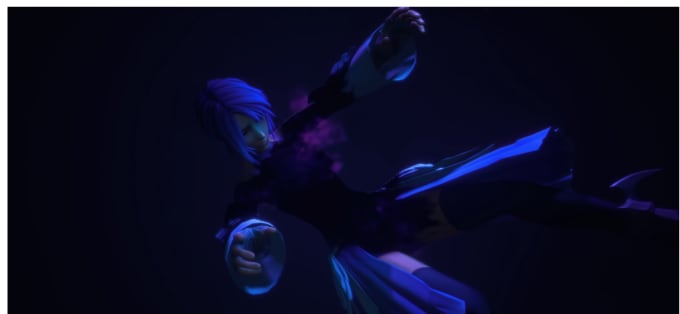 We also see Aqua make her surprise appearance in the trailer, falling down slowly.
What a thing of beauty!
On the flip side, she becomes a Norton, which breaks my heart.

Olympus is falling down.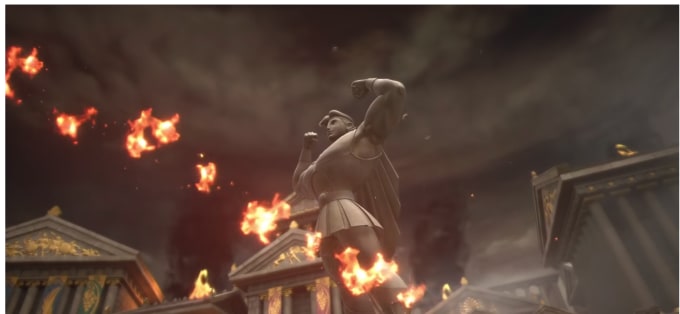 As we go back to the trailer, we see Olympus getting destroyed by multiple fireballs. A Hercules statue falls down and Sora sees all of this happening.

Mike, James, Sora, Donald, and Goofy escape from a coming explosion behind them.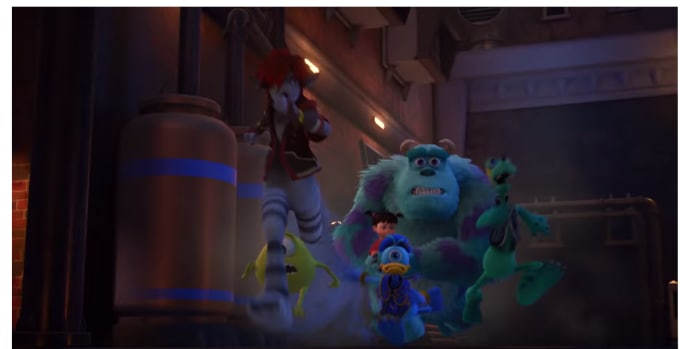 As we transition further, we see Mike and James from Monsters Inc. with Sora, Donald, and Goofy escape an explosion.

A Ratatouille World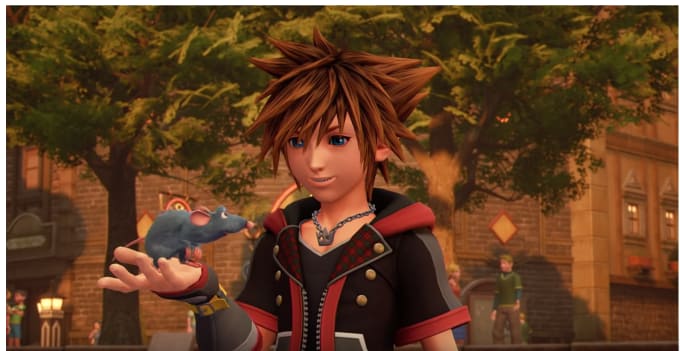 We also see different worlds that will be in the game, including:
Toy Story

Frozen

Winnie The Pooh

Ratatouille

Pirates of the Caribbean

Big Hero 6, and many others.

Riku protects Sora from the darkness while encouraging him.
This scene here brought me to tears.
Courtesy of @warpstrikes on Twitter who revealed that Riku is protecting Sora from falling into darkness. He gave a motivational speech to save his heart while Utada sings. This clip stands out to the most me in this trailer.
Well said, Riku.
A Group of Keyblade Wielders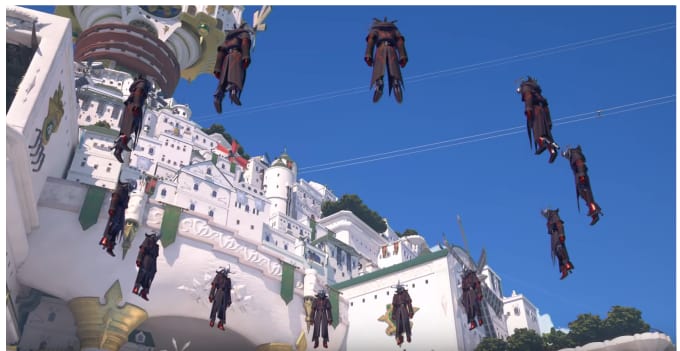 As the trailer ends, we see 12 keyblade wielders in a circle. Master Xehanort said that "I and my other selves can be one."
What does this mean?
Does this mean that Sora have to defeat these keyblade wielders before facing Master Xehanort?
That would be awesome!!

Scala ad Caelum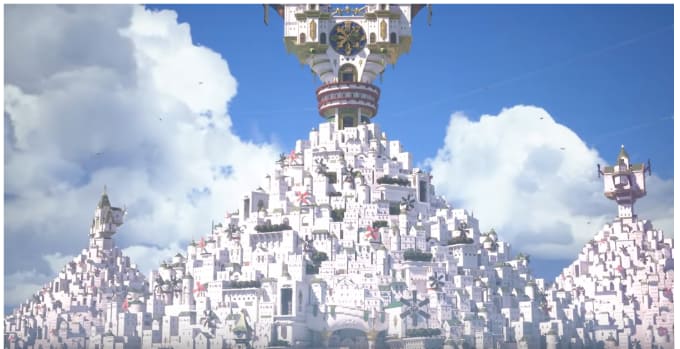 This gorgeous place looks beautiful!!
I think this is the final world. Now, Master Xehanort did mention that this place is called "Scala ad Caelum." I believe this is where Sora will use all of his keyblade wielding experience to show how far he has come.

Pre-Order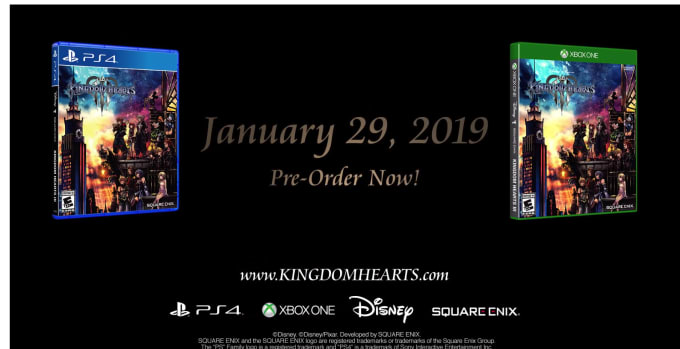 Overall, I loved every bit of this final trailer. There are tons of worlds to explore and playable characters to be played in this game. I wish Kingdom Hearts 3 would come a lot sooner after seeing two awesome trailers.
Hopefully, I can get the game when it comes out next month.
This is my review on the final trailer of Kingdom Hearts 3.
You can pre-order by clicking the following links below:
I hope you guys enjoyed reading this post!
Thank you all for reading!
Social Media:
Twitter: @RealMikesReview
Facebook Page: I Am Anime
LinkedIn Profile: Michael Reynoso
Check out my store by clicking the link here.
Until next time, my friends! ^_^